Bored of your computer? Want to see something exciting every time you turn you PC/lappy on? Or you simply want to increase your productivity?Well then, this post is for you. I, Kevin Skywalker, will introduce you to some of the best free customization softwares for Windows 7, that will spruce up an otherwise boring Aero interface, and you don't need to be Einstein for that.
What most people suffer now-a-days is, in my terminology, crowded-desktop-syndrome. Several of you may have solved this problem by making a new folder in which start dumping all your extra icons. With time, you find navigating through that folder sorta 'creepy!!' Then you make sub folders category wise and try to find a way through the mess. But even after wasting hours, you are not satisfied with the results. So instead of this inelegant way, would you like to try something new? Maybe, a dock? Never heard of them? Well, they are

graphical user interface

elements that typically provide the user with a way of launching, switching between, and monitoring running
programs

or

applications

. This image will help you understand better...
You can see the dock on the top of the screen
You can organize your icons on the Dock, which can be set to auto hide, so, your desktop will become amazingly less crowded. Still got too many icons? Sort and organize them into folders at any place on your hard disk and use the 'Stacks' docklet for rocket dock. And boom!! Your folders will appear in the dock and you can launch apps quickly from it while cleaning up your desktop. Cool, isn't it?
Using Stacks Docklet with Stardock, wonderful combo to cleanup your desktop!
Download Rocketdock
Download Staks Docklet for Rocketdock
Still, there will be some documents remaining on your desktop. Wanna organize them too? But still want to stay out of the long process to create stacks on the dock? then you can organize them into Fences. Ya, you read it right, Fences. It is a free app that allows you to easily create "Fences" on your desktop to keep the icons of same group together and easily hide/show them.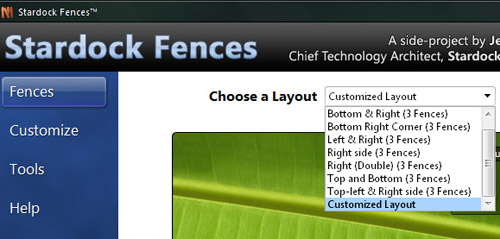 Fences also works on XP and Vista
You can create unlimited fences and its free!! You can even set the transparency and color of fences, rename the fences, etc. And when you want to clean-up your desktop, simply double-click and abracadabra, all your icons disappear. Off course you can select which icons to hide in "Fences Autohide". So the next time you are doing a research on something and have downloaded various documents that you plan on using frequently, simply right click and drag to create a fence and put em all in there. Simple?
Clear your desktop of clutter with Fences from Stradock
Ok, so now that you have organized your desktop, lets proceed to the next trouble you might be facing. So imagine that you have opened a lot of applications and you are feeling uncomfortable to switch between them quickly. The taskbar doesn't appear clean or organized with hell lot of applications opened all at once. Or another situation. You have signed into your Facebook account and are chatting with friends or maybe, with that 'someone special', when a family elder walks in on you. What will you do? Obviously, close the browser window. Well that's old school approach. After installing this application, you will just change your workspace( Those familiar with Ubuntu or OS X will know what I mean). So guys, let me introduce to Yod'm 3D.
Yet anOther Desktop'Manager 3D is a freeware that allows you to have upto 4 desktops running all at once. Simply change the screens next time you get the urge to close your running apps because of someone's prying eyes and continue when they are gone. Nice way around those aunts and siblings who always try to get you in trouble...!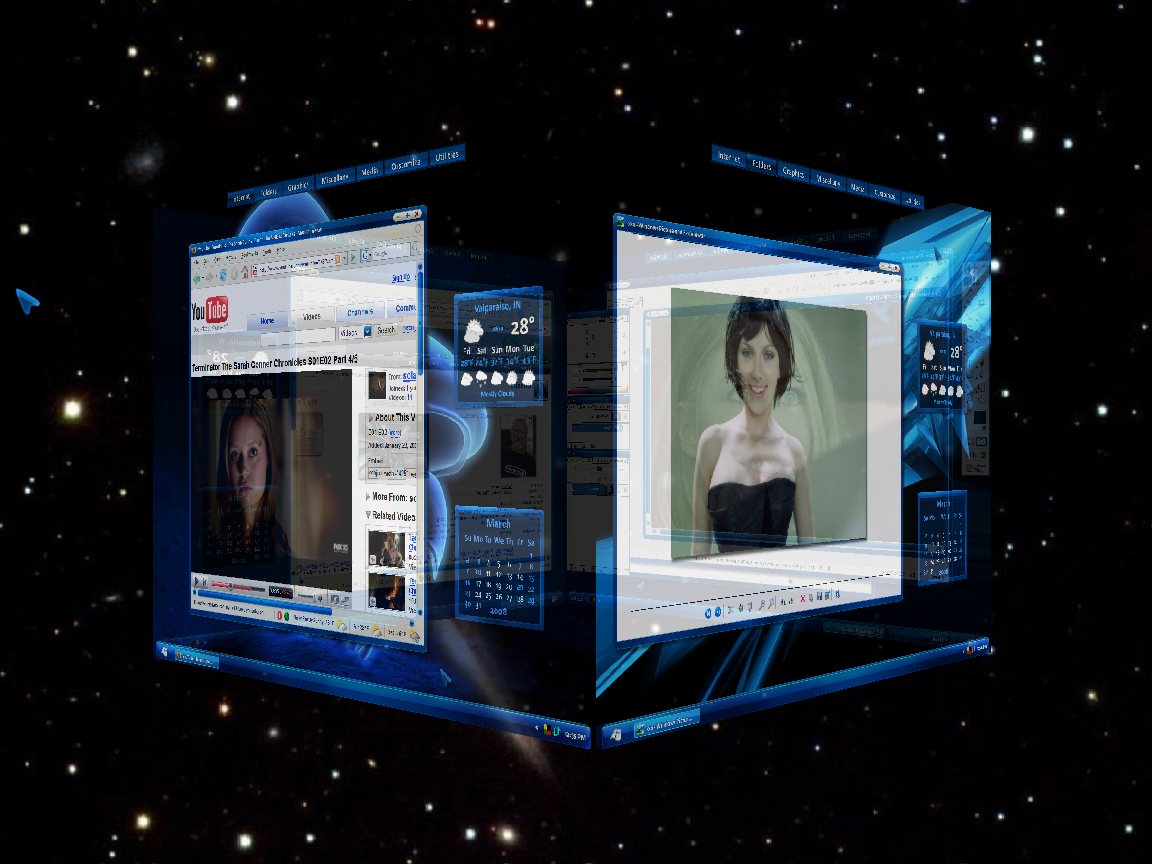 Good thing, it also works with XP and Vista
You can change your shortcut keys combination as well as cube size and backgrounds. You can also have different backgrounds for each screen but that would ruin the purpose of trying to hide your activity. I prefer(and use) the combination SHIFT + CONTROL + ARROW KEYS. Its easy to remember it like this:- SHIFT the CONTROL to LEFT. Try it out. This app is a must for all!!
Thats just those three utilities that are a must for every Windows user. They are light weight, elegant and less memory consuming. So no need to worry, they won't slow you PC down. Also, these are compatible with each other. I hope you have fun with these free apps. Be sure to come back for more customization softwares. Till then, enjoy and leave your suggestions and experiences with these apps in the comments.
Did you find this article helpful? Leave you feedback in comments and also share this with the help of our floating social gadget on the right.